Hadaya's September Sales 2019
Winter is Coming - September Special Online Sales
Once again, it's that time of the year. We've found a way to warm up the upcoming winter with special sales of your favorite designs.
#MondayMadness - Every Monday, a few designs will go on sale (

30%-40% off

) for just 12 Hours starting 10am ET / 7am PT.
Standard Shipping at

$9

$18 ALL MONTH
Express Shipping at

$30

$40 ALL MONTH
Free Hadaya's Book Sticker WITH EVERY ORDER - We'll add a free sticker with a random Hadaya's Book saying
Bonus Sale - On the last Wednesday of September we'll have a special bonus sale, details will follow soon...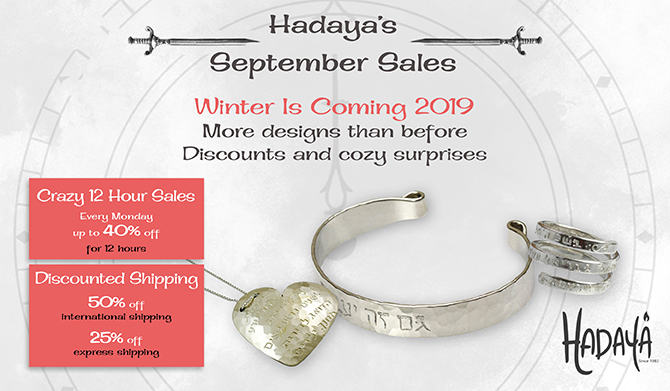 Dates, featured designs and prices (10am ET starting time) -