GoTo Bat-Mitzvah Gifts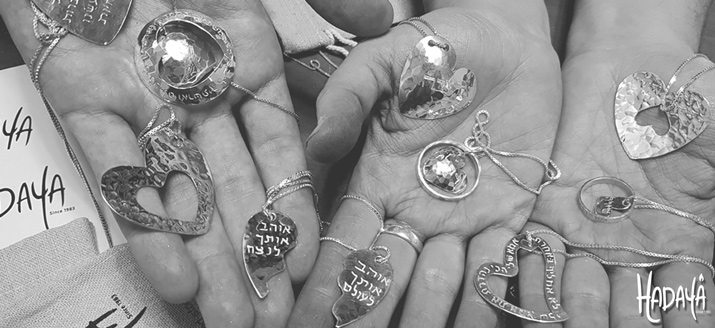 For over 30 years we've been making Bat-Mitzvah gifts to girls around the world.
Following your feedbacks, we learned which designs and quotes are best as a Bat Mitzvah gifts for a special, once in a lifetime, occasion.
The right combination of design and quote will not only be a souvenir of that day, but a piece which will accompany the girl for years to come.
Finding the right quote
Our designs are Hebrew Engraved by Hand, use Hadaya's Book to find inspiration for personal engravings.
It's common to add the girl's name or family members names as well as personal massage on the back. All Hebrew engravings are free of charge.
Below, are few of the most popular quotes our customers choose to engrave on their Bat-Mitzvah gifts items, you can combine it on the front or the back of any of our top 5 bat mitzvah gift designs by selecting and clicking "Show in Store" to view your personalized design.
Quote:

Design: Front/Back:


Our Top 5 Bat-Mitzvah Designs
Domed Heart, hammered by hand. Personalized with your Hebrew engravings. You can never find two exactly alike.
Most girls prefer to have their name on the front and the quote on the back.

"...Everyone needs a heart. This one is timeless. You can never go wrong giving someone a heart. Every girl and lady needs one." (Patricia, Arlington, Va. USA, Mar 19 2018)
"...Excellent Bat Mitzvah present. Always loved by the recipient." (Tiorah, Yerushalayim, Jan 23 2018)
Read all Heart reviews
Everything about our top seller Yeshiva Bracelet is natural. It's light, it's flexible and it's simple. Add custom Hebrew engraving, all made by hand and it's a piece to cherish for a lifetime.
Just like with the Heart, most girls prefer to have their names engraved on the outside of the bracelet and have the quote inside.

"This is my "go to" Bat Mitzvah gift. I have ordered several over the years. They never disappoint. I love that the bracelet is timeless. It's appropriate for a young woman or an older one like me! The craftsmanship is wonderful and the improved website makes it easy to order." (Stacy, Arizona, US, Aug 03 2017)
"We have purchased many of these bracelets for bat mitzvah gifts... one for our daughter and myself as well. They are beautiful and well made. The service from Hadaya is fantastic and the quality of the product is great. These gifts are always a big hit " (Julie, U.S, Apr 24 2015)
Read all Yeshiva Bracelet reviews
The Bagel Necklace has proven to be one of our most popular designs. Natural shape, hammered and engraved by hand, simple and elegant.

"I ordered the medium bagel as a gift for my niece on her Bat Mitzvah. It is absolutely gorgeous, the engraving on the front is clear even though I requested one of the longer pesukim. My niece's name on the back is beautifully done in a different script than the front. I'm sure my niece will love this unique piece." (Ita U.S, Jan 12 2016)
Read all Bagel reviews
Our Pomegranate shaped pendant is both simple and unique. Suitable for everyday as well as special occasions.
Unlike the Heart and the Bagel, the Pomegranate comes in one size, and is relatively small. It will fit the girl's name on the front and a short quote on the back

"This is so gorgeous in person! I bought this for my eldest daughter as a gift, and love it so much, I ordered a piece for myself a few weeks later! LOVE Hadaya jewelry because love, time and care goes into each individual piece." (Dalia, Texas, Aug 03 2017)
Read all Pomegranate reviews
Top selling design for the last 20 years, our Yeshiva Ring is commonly a first Hadaya design for many. It is important to have the exact size of the finger, but one can also add a chain to the ring and have it worn as a pendant.

"I purchased this for my daughter & am so happy with this ring. The service was great & I received the ring exactly as ordered. This is not my first purchase from Hadaya. I highly recommend the beautiful Hadaya jewelry. It is very meaningful with the personal Psukim (verses) & personal engraving. I know my daughter will love her new ring. Todah Rabah!" (Debby, U.S, Jan 08 2013)
Read all Yeshiva Ring reviews